Miss. Taryn D. Chaykowski
Violin, Viola Teacher
Violist Taryn Chaykowski began her musical studies as a Suzuki violin student in Brantford Ontario, participating yearly in the Kiwanis Music Festival and earning several awards and scholarships including two silver medals for the highest mark in Ontario on both her Grade 3 and Grade 8 Royal Conservatory of Music violin exams.  She attended Wilfrid Laurier University where she began her viola studies and graduated with an Honours Music degree in viola performance.  Taryn graduated from the Master of Music program at the University of Ottawa in 2012.  Over the course of her career Taryn has studied with several well known string teachers including The Penderecki String Quartet, Adele Pierre, Rennie Regehr and Natasha Sharko.  She has played for many others including Mark Fewer, Giora Schmidt, Paul Silverthorn, Atar Arad, James Dunham and Hariolf Schlichtig.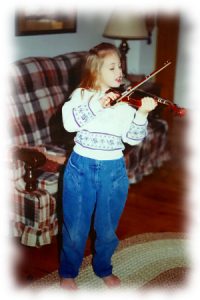 Taryn has performed in several prominent Canadian orchestras including Orchestre de la Francophonie, The Brantford Symphony Orchestra, The Guelph Symphony Orchestra, The Niagara Symphony Orchestra and The Ottawa Symphony Orchestra.  She has also given six solo recitals and has participated in outreach concerts in her community.
Taryn is an experienced string teacher who has been teaching violin and viola since 2002.  She received Suzuki Violin Book 1, 2, and 3 teacher training at the Southwestern Ontario Suzuki Institute.  She completed training in Suzuki Violin Book 4 with Edward Kreitman at the Ithaca Suzuki Institute in Ithaca, New York and took long term training for Books 5-8 with Paule Barsalou.  Taryn taught at The Brant Suzuki String School and the Hamilton Suzuki School of Music before leaving to start the Twinkle Strings Suzuki School in 2017.  She conducted the Little String Orchestra for their 2013/2014 season and adjudicated string section of the Brantford Canadian Showcase in 2017.
In August 2011 Taryn recorded Symphonie Fantastique (Berlioz) with the Orchestre de la Francophonie.  She has also been heard on CBC Radio 3 performing Esther Wheaton's work "Not Legendary, 9 Songs for Chamber Orchestra and Soloists."
In her spare time Taryn enjoys running and playing board games.